Using ARH Interiors For Your Next Interior Design Project
Where do I park when visiting your design studio?
Our studio is location at 511 Rhett St 1C in downtown Greenville, SC in the Old Cotton Warehouse. There are parking lots on either side of the building and several spots are designated with sign for Interiors AR Homes.  We are by appointment only.
How much does a professional interior design project cost?
Using an interior designer is often perceived as a luxury and as an extra expense, but the reality is a good design team will help you manage costs and bring real value to the selection and purchasing process.  We have fabulous buying power with our association with AR Homes and accounts with most of the major furniture vendors.  Although the total cost will vary based on the size of the project, we understand the art of investing in the right pieces while staying within the confines of a realistic budget. We can assist you with any scale of project.
Do you only work on design projects with clients that are building with AR Homes?
We work with all clients building homes with AR Homes in the SC upstate and western NC to make the finish selections for the exterior and interior of their home.  Some of those clients will opt to work with our studio on the interior furnishings for their new home.  We are also open to clients interested in interiors projects that are not building with AR Homes.
What do your interior design services include and what is the process?
We will start with an initial design consultation to discuss the scope of your project and desired budget. We can assist with furniture, rugs, lamps, accessories, art, bedding, privacy window treatment and decorative window treatments. Once we set the scope of the project, we will create design presentations and detailed furniture layouts for your home. Once selections have been finalized, we will provide you with a detailed proposal. Upon approval of the proposal, we will submit, manage, and track all orders. Out team will oversee the receiving, warehousing, delivery, and installation for the entire project. The goal is to make this a seamless process for our clients and for them to walk into the home of their dreams.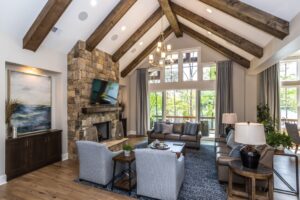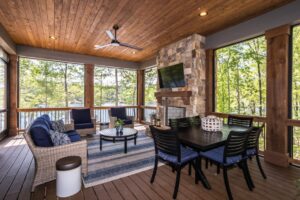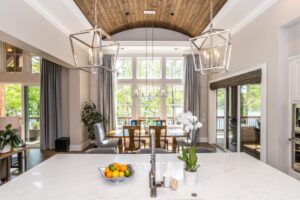 Design / Build With AR Homes Questions
I am interested in building with AR Homes, how can I learn more about your design studio?
The process to build with AR Homes begins with our sale associates located in our furnished models. They will guide you through the process and make arrangements for you to preview the design studio and learn about it's role in the process.
Visit AR Homes Greenville / Upstate
I am building with AR Homes, how should I prepare for my design selection sessions?
We advise that you look for inspiration images for the overall look that you desire for the exterior and interior of your homes and we can guide you to achieve that look.  This can be done on houzz.com or pinterest.com and you are welcome to share your boards with us.  If you do not know exactly the look that you want, we can guide you through that process.   If you plan to use existing furnishings, we suggest bringing photos to share with us so that we can seamlessly incorporate them into your new home design.
I am building with AR Homes, describe to me a typical exterior and interior color session?
The exteriors selection session typically lasts about 1-2 hours. This can be done either in person or via zoom.  We will guide you through all selections for your roofing, paint colors, stone, windows, doors, gutters, driveway, etc. The purpose of this meeting is to complete the selections required to be approved by the communities in which we build.
The interiors selection session is a 2-day process and must be done in person the design studio.  These typically take place on a Monday-Tuesday or a Thursday-Friday.  In addition to the designers, your project coordinator will attend this session to input all selections into our system.  We will start with your kitchen and main flooring and then work our way through your bathrooms, bars, and laundry rooms. We will design these rooms by select your cabinet finish, cabinet profile, countertops, tiles, cabinet hardware, plumbing fixtures and much more.  On the morning of day 2, we will finalize the design of your fireplaces, select paint colors, discuss ceiling details, etc.  At the end of day 2, we will do a complete review along with detailed drawing for all tiled spaces.
Following these sessions, we will create a Pinterest page showcasing all of your selections.  We are also in the process of being able to add your selections to the 3D renderings that were used during the initial sales process so that you can see your home come to life.
After my selection sessions, what is next?
There will be several additional meetings that your project coordinator will schedule for you.  Our designers will attend your lighting meeting to help facilitate those selections.  This will be at one of several local lighting showroom and we will make all of the selections for your exterior lights, ceiling fans, chandeliers, pendants, and bath vanity lights. Where necessary you and our will meet with our cabinet maker to address any cabinet needs. If you are interested in using our design services for furnishing your home, we will then set up an initial consultation.